How To Pay Off Debt On A Low Income
Typically a newly graduated student faces the unique problem of paying off their student loan debt while he or she might be working as an intern or just starting off his or her first job post graduation. Often, fresh graduates are on a starting salary that isn't in the 5-6 figure range.
So in such a scenario, where the income level is pretty low, how can graduates on a low income make sure their student loan repayment goes smoothly? Any delay or default in debt repayment will surely hurt the borrower's credit score. Long-term that can have a major negative impact on your credit history.
Don't Despair: You Can Repay Your Loan
Even if you earn a modest income and have a lot of student loan debt, hope is not lost. A proactive approach to financial planning and mapping out a realistic budget is essential to your success. However, making a realistic plan or budget is just one step in the right direction toward living debt free.
The most important thing is that you have to adhere to your budget and debt-repayment plan once you make it. If you make a plan and do not stick to it, you may as well have never made a plan at all.
Your First Steps Toward Debt Repayment
When making a debt repayment plan, identify your two variable constants:
Your Monthly Salary
Your Monthly EMI
Beyond your cash out in the form of EMI, note your essential monthly expenses. Next take stock of your "avoidable" or luxury expenses (for example, how much could you save by brewing your own coffee at home vs. stopping in at the coffee shop every day?).
Your Budget preparation or the financial planning will definitely highlight these "Avoidable" expenses. The idea is to make sure that there has to be minimum stress on your cash flow until the loan repayment is complete and you're debt free.
Let's make a hypothetical budget for the month: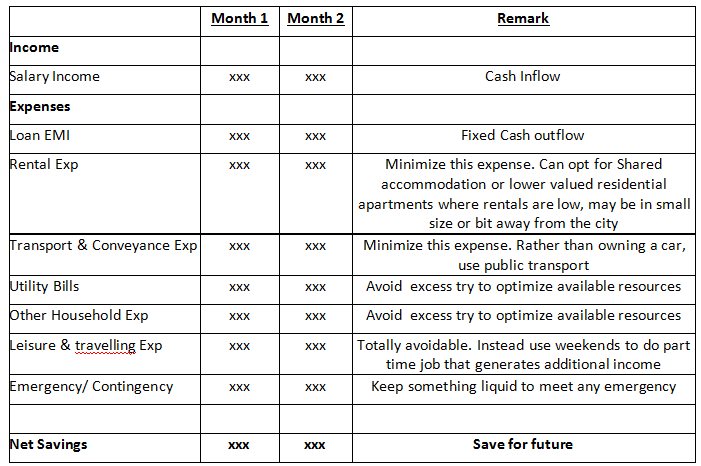 The image above depicts a sample monthly cash flow summary, which may look a lot like your own. Once you prepare this simple fact sheet, it will quickly become clear in terms of your spending habits and expenses, where you can cut back and live lean to have more money available for the essentials.
Whenever there is an outstanding loan on  your financial obligations, the EMI payment should be your top priority. The fact that you don't have much income is not an excuse for missing a payment. Incurring late charges or defaulting on your loan will make your situation worse, not better.
By avoiding leisure travel on weekends and other luxury expenses like that $5 latte, you'll find you have a lot more cash available each month for loan repayment. You can also consider taking on part-time jobs, or freelancing on the weekends to support your EMI payment and to get out of debt as quickly as possible.
Once you are ready with a budget plan, you may surprise yourself and have money you can save, or put toward principle on your loan to pay down your debt even faster.
If you were looking for an easy-way-out or quick fix to paying down debt on a low salary … sorry, there isn't one. Making a plan, and then making sacrifices to ensure that you're plan works is important. To successfully repay your student loans quickly, without missing payments or incurring additional charges, you must adopt a lean lifestyle and make cutting out the luxury expenses a habit.
The Income-Based Repayment Model
When an individual is applying for a loan, it should be a priority that he or she takes a loan based on an income based repayment model or plan. According to such income based repayment models, your monthly EMI is calculated based on the specific proportion or percentage of your income.
As a result, the income-based repayment model helps to ensure the borrower's repayment capacity is ok. In other words, you won't be granted a loan that your salary would prevent you from repaying.
This can help the borrower repay their loan on-time, without taxing his or her monthly cash flow to a dangerous level.
Be smart, make a plan and a budget, and stick to it. Live lean and you can repay your debts, even on a low income.